Performance management is like a doctor's appointment. It is meant to be planned, timely, and focused on getting answers. As an HR manager, you want to look into the recent activities of your employees to identify the best performers and laggers consistently.
However, it's a different ball game when you are managing a team of remote workers. You've set the goals, and the requirements are clear. But you keep failing to get your virtual team to the highest level of performance.
This post aims to help HR managers with some ideas to manage performance for remote workers and the best way to implement it to keep your team happy and productive.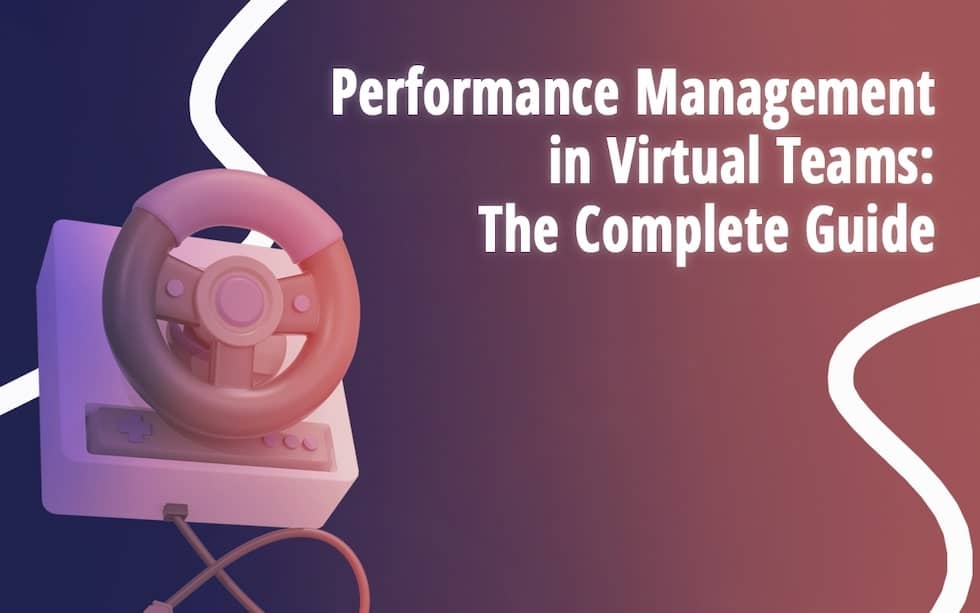 What is Performance Management?
Performance management is a measuring and monitoring system that helps you improve the output of your employees.
The traditional performance management system is formal, clear, and concise but requires regular intervention because it is not self-corrective.
This is common to on-site employees who get to talk to their managers in real time without a scheduled evaluation. Virtual communication, such as Zoom and Skype, allows remote employees to do the same. However, there are still a few downsides.
The Challenges of Performance Management for Remote Workers
Managing remote teams is different from managing office employees. They have unique challenges that can make it difficult to keep them motivated and engaged.
Here are some of the most common challenges of performance management for remote workers:
1. Lack of face-to-face interaction
You may know your team members but not well enough to see what's going on in their lives or understand how their work fits into the bigger picture.
This makes it easier to motivate them with proper context. This can also be a problem in an office where the employee is holding back on sharing personal stuff.
2. Work communication problems
When managing a remote team, it can be harder to convey your ideas clearly and effectively because you don't have visual cues such as facial expressions or body language to help get your point across.
As a manager, you need strong communication skills to manage your team effectively and provide feedback when needed.
3. Lack of accountability
It's easy for remote workers to slack off or skip days altogether. This can make it difficult for you to hold them accountable for completing their work on time and keep tabs on their progress.
Oftentimes, it's a problem of engagement and performance management. The objectives and goals could be clear, and your employees may still be unmotivated to deliver.
You want to increase the collaboration between co-workers to lay a foundation for accountability on all work-related tasks.
4. Difficulty in tracking time and productivity
Whether you have an on-site or remote team, you won't know how well your employees are performing if you're not present to oversee tasks.
Today, tools like time-tracking, project management, and performance management software are designed specifically to help you get accurate performance insights.
You should set clear objectives and goals for a remote team to get the best out of your tools.
5. Lack of Social Interaction
Based on several studies, the most common problems for remote workers are anxiety, loneliness, and isolation.
According to Buffer, 19% of remote employees feel lonely most of the time. 22% feel they don't get to have much family time.
While trying to balance things out, some may miss out on the social interaction that comes with being in the office. This can affect work-related communication and hurt productivity.
Tips for Managing a Remote Team
If you have a virtual team of workers or are planning to have one, here're a few tips to help you manage performance and increase productivity.
1. Set clear objectives
Your remote employees need to understand what they're working on and why. Have regular meetings to discuss company goals and objectives, or create a strategic plan that lays out your vision for a project in a specific period. A clear vision makes them feel more connected to your company and its clients.
2. Use regular check-ins and feedback sessions
Performance management in virtual teams is a continuous process. These meetings should include all staff members, whether part-time or freelancers.
You can use these meetings to review any significant issues that may have come up since the last meeting and discuss plans for the upcoming week. It helps ensure everyone is on the same page about critical issues like deadlines or project priorities.
3. Adopt a performance management software
You can adopt many different kinds of performance management software to track employee activities and monitor their productivity levels.
While some of them help you understand the performance pattern of your employees, they do not provide engagement features to keep them active.
This is where gamification comes in. Gamification is the application of gaming mechanics to keep your employees engaged while getting work done.
Best Practices for a Remote Team Management
Establish up to 3 core values that define your culture
Prioritize strong communication and accountability among employees
Avoid micromanagement and encourage flexible work mode
Allow time-offs for personal activities
Give rewards and recognition
Performance Management in Virtual Teams
When done right, performance management can tilt the lever of your turnover and revenue by a large margin. You can clearly see your remote employee performance by learning to manage the results rather than the activity. And the best way to approach this is to adopt a platform that helps you gamify business activities and provides valuable business insights. Try ZIZO.
ZIZO is a business gamification and performance management platform for remote teams. If you own or manage a call center, collections team, sales team, or insurance team, ZIZO is for you.