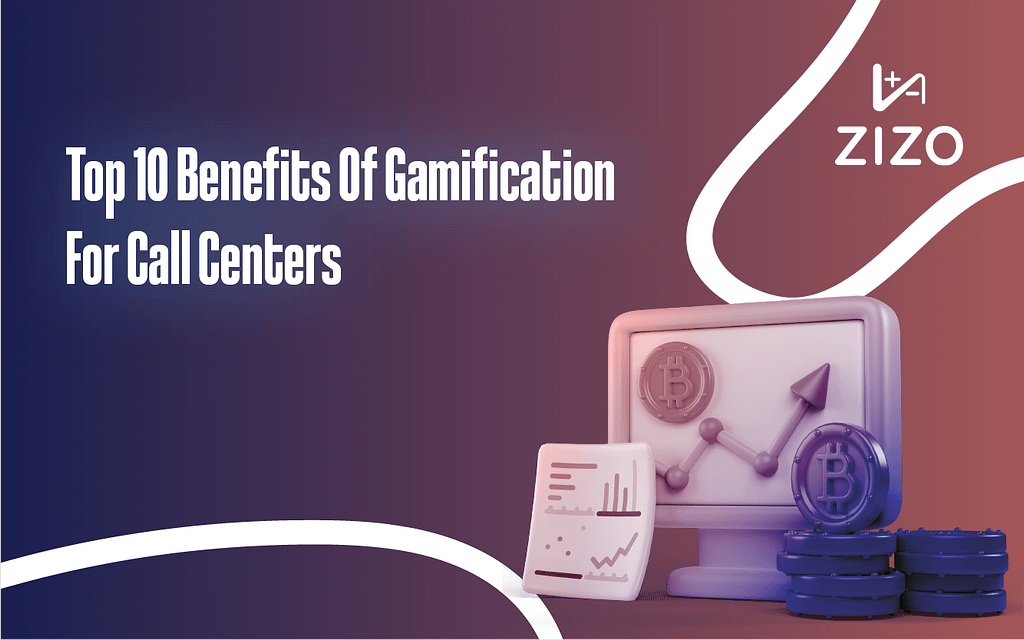 We've all been there. You call a business, and they put you on hold. Many times, you get tired of waiting and try later. Other times, you get connected to an angry, overworked agent who's unmotivated to solve your problem. For many companies, the average call center employee is just an HR number and is readily replaced in a heartbeat. This contributes to why call centers have one of the highest turnovers, which can be as high as 100+%.
As Richard Branson says, "Clients do not come first. Employees come first. If you take care of your employees, they will take care of the clients." Companies like Toyota, British Petroleum, and Nike have found that implementing Gamification into their call centers increased agents' productivity and efficiency by up to 40%. Using gamification techniques, you can improve your team's productivity and reduce turnover by a large margin.
If you're still unsure whether gamification is best for your call center, here're some benefits you should know:
[ez-toc]
1. Better Agent Engagement and Performance
A call center job comes with KPI targets, frustrated customers, and long work hours. As a manager, the least you can do is invest in motivation techniques to get the best out of your agents without them burning out. Gamification in call centers is a morale booster for agents to work harder and increase their involvement in the day-to-day tasks of the call center. It also encourages your agents to take ownership of their roles and responsibilities and hold each other accountable.
2. More Sales and Revenue
The goal of any business is to make profits. Call center gamification can effectively increase the number of customers who buy products and services from your company. When your employees are happy, they are motivated to help you get more clients and retain the existing ones. Also, when your customers are satisfied, they tend to give great feedback that will inspire your employees to do more.
3. Positive Customer Experience and Satisfaction
The concept of gamification is built on rewards and recognition. When you gamify your call center, agents are likely to be motivated by the rewards they get from competing, improving the quality of services they offer to every caller. Employees also feel more invested in their job when they know they have an incentive at stake if they do well for an extended period. It's a win-win. Your employees and customers are happy.
4. Better Monitoring and Supervision
Access to data is essential to identify the areas of your employee engagement that need work. A standard gamification platform provides real-time feedback to help you supervise your agents and monitor their performance. In addition to the employee engagement metrics, you can also draw key business insights that impact your overall performance and revenue. This will also motivate your agents to work harder to achieve higher points that put them in the best reward positions.
5. Low Attrition Rates
Call center employees are often considered "contractors," meaning there's no guarantee of long-term employment. Also, without proper motivation techniques, many agents quit in their first year of work. Gamification can help keep your agents engaged and satisfied in their jobs through fun rewards and incentives they get from using your company's gamified platform. It also makes them feel like they are a part of something bigger than themselves. The global gamification market is valued at around $11.94 Billion and it's expected to increase to $20 Billion in the coming years. Many stats also support that gamification improves retention.
6. Awesome Team Energy
When it comes down to it, customers can feel your team's energy. They can see the awards you've won to know whether you are pleasant to work with. And they make these observations through the lens of your employees. You want to maximize the performance of your call center agents with team-building activities. Gamification makes these activities look natural and integrated with work in itself. You can have multiple teams compete for a sales target and win rewards each month. This is a great way to promote collaboration, communication, and cooperation.
7. Healthy Competition
Competition can be an excellent motivator for your employees. When agents compete on a gamified platform, they tend to put more effort into their work, which results in better performance. Also, it promotes a sense of community between employees as they go through the same process together as individuals or teams.
8. Innovative and Creative Team
Gamification creates game-like environments where the brain is fired up constantly to perform simple and complex tasks. The mental processes help call agents analyze and respond quickly to situations based on your client's needs. They tend to develop new solutions for existing problems or even find new ways of doing things. In addition, gamification provides a platform for agents to make mistakes that others can learn from.
9. Save The Cost Of Training
The cost of employee development programs takes a big chunk in the overall cost of acquiring labor. With gamification, you can reduce your call agents' time on self-learning and development while improving their productivity. This will save you much money because it reduces the hours spent on training agents to become effective at their jobs.
10. Rich Call Center Culture
Your call center employees are always on the phone and interacting with customers, which means they play a critical role in shaping how customers perceive your brand. Gamification can be used to create a fun and engaging atmosphere your prospects and clients want to associate with. A strong corporate culture makes work feel like fun. Every agent feels like part of the team, and there's no better place to be than your company.
Read: Employee Engagement Ideas to Motivate Remote Workers
Call Center Gamification Works
Because hiring new employees is expensive, every agent who leaves your call center hurts your business. Call centers now adopt gamification to drive motivation and create a work environment that enables employees to thrive and grow. If gamification sounds like a good idea for your contact center, but you're wondering where to start, try ZIZO.
ZIZO is a revolutionary gamification platform created to help sales teams and contact centers tackle attrition and low work performance.