Gamification Software To Manage Your Team's Performance and Boost Their Engagement
Management Solution
Gamification Rewards and Recognition
Our platform's reward store is the answer to your manager's need to constantly satisfy your employees!
In ZIZO's reward store, employees can utilize their Zbucks to purchase digital assets to improve their in-app experience, treat themselves to a tangible good that they've been eyeing up, grab a digital gift card to their favorite store, or exchange in-app currencies for company perks.
The store is totally customizable so you have full control over what is available to your team. We'll provide a library of options and suggestions, but your admin ultimately decides what works best for your team.
The best part? We handle fulfillment of goods and digital assets. From checking out the best-seller lists, to delivering items right to their door, we've got it covered.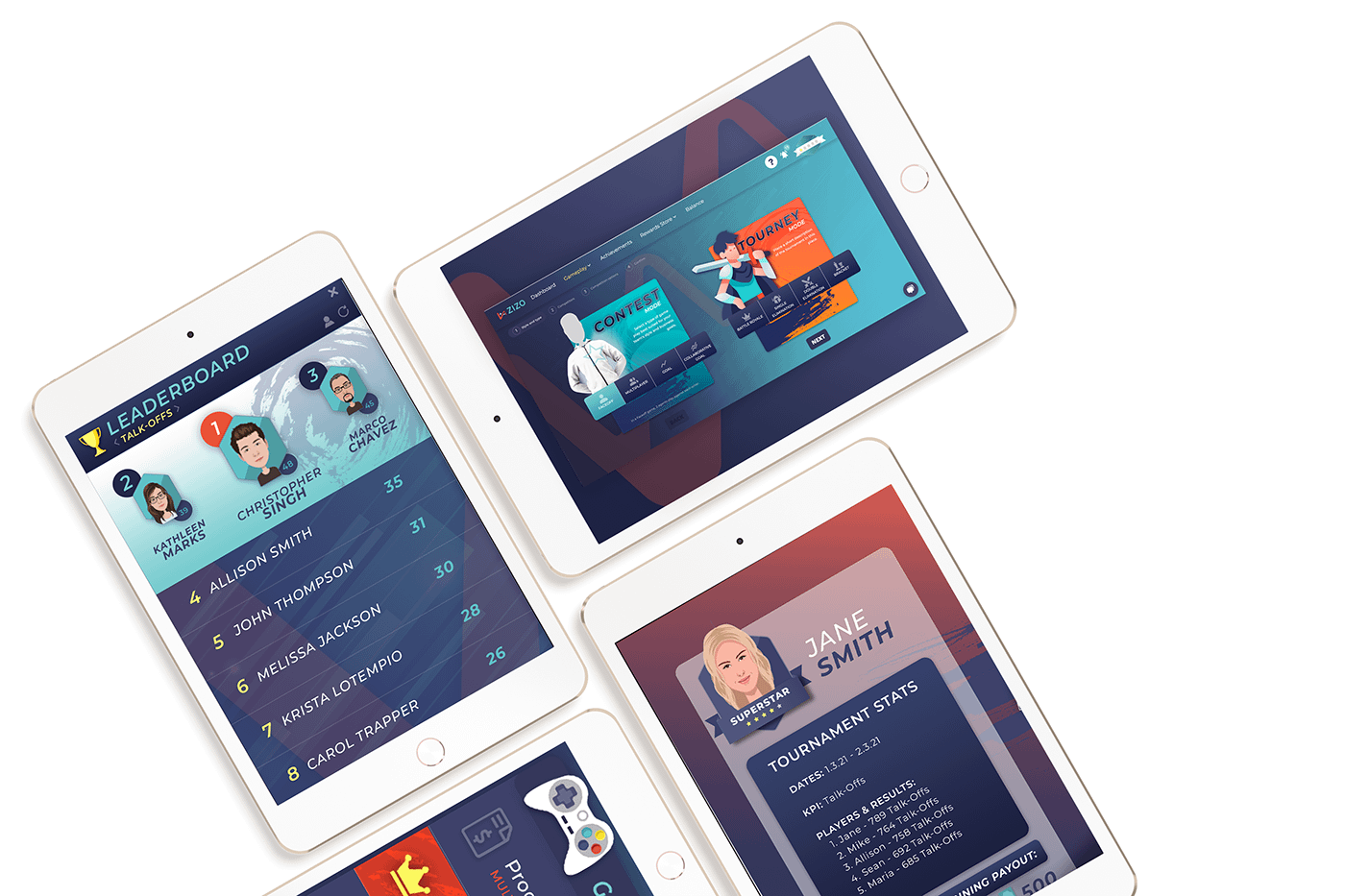 Encourage Competition
Custom Contest Builders
Different contest settings allow you to build exactly what your team needs, this way they can accomplish your business goals while keeping the mood fun and good-spirited. Ask your ZIZO contact for more details about customization options to fit your specific needs.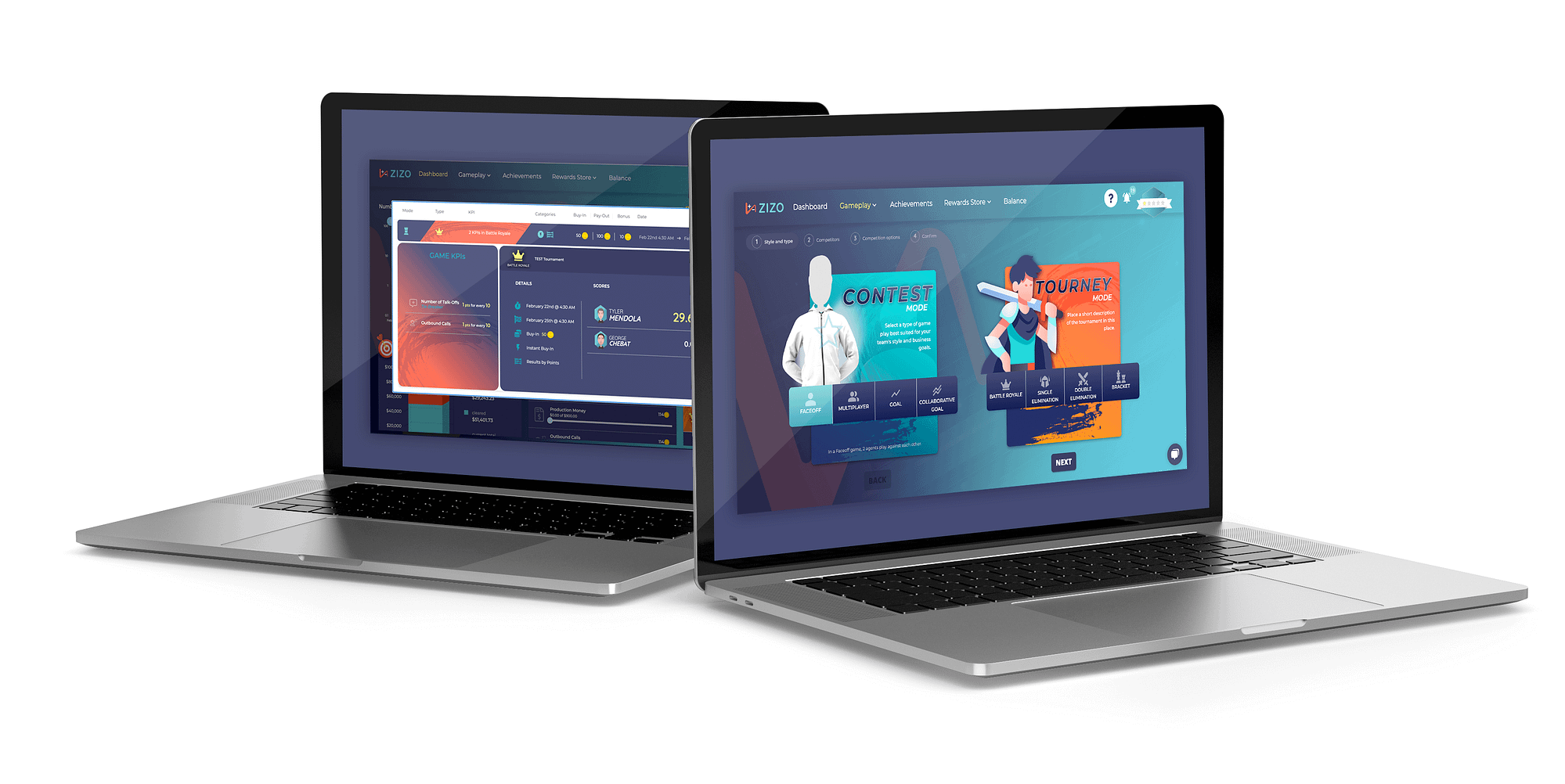 Contest types:
One vs. One – You know those employees who love to argue about who's better? We've got a contest for them. Select a KPI and two employees then let them battle it out to prove that they really are the best.

Team vs. Team – Need to get the whole office inspired while encouraging a little healthy competition? Split up the whole department (or just select members) into two teams and challenge them to shine.

Individual vs. Goal – Let's face it, some individuals just don't thrive on competition. Set individual goals for your employees and allow them to be motivated without the added pressure of losing to their peers.

Collaborative competitions – Our most popular contest style! Fosters camaraderie and social engagement towards a shared goal to boost employee engagement and satisfaction.

Tournaments – Get the whole team involved with different style options to choose from. A great choice to promote teamwide excitement!
Level Up Your Team
Employee Ranks & Levels
It wouldn't be fair to expect the same performance from an employee on day one as from a seasoned veteran. ZIZO's rank/level system accounts for that.
New users start at Rookie 1 and move up through 25 levels as they perform.
Each new level comes with new expectations, pushing them to perform at the perfect level for their experience and past performance.
This provides clear expectations for increasing performance against payouts as well as rewarding people for "going the extra mile".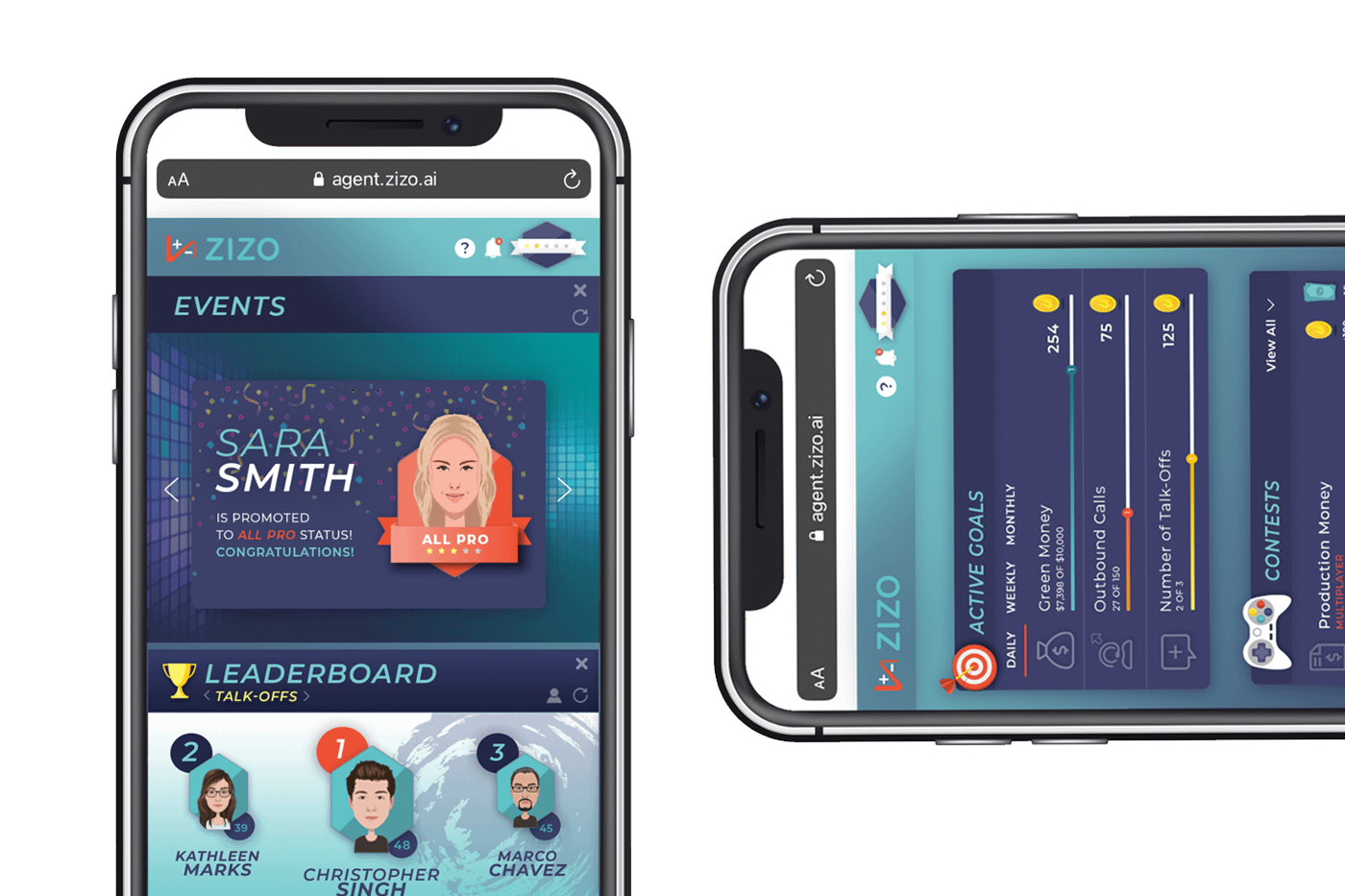 Gamified Performance Management Platform
Give Employees Clear & Achievable Goals to Grow
Milestones
It can be easy to lose motivation when you can't see the big picture. To combat this, your customer success manager will work with you to identify the ideal career length for your team.
Set career milestones and encourage a long-term outlook on their performance.
Increase tenure by offering your employee's visibility into past and future career milestones.
Promote productivity with extra bonuses for reaching milestones efficiently.
Daily/Weekly Goals
Individualized goals for each employee are automatically delivered to them through the platform – challenging them each day.
Emphasis on each individual´s lowest performing KPI's.
Help your team improve their performance where they need help the most.
Performance Management Tool
Are You Ready to Engage and Supercharge Your Employees?
Performance Management Systems and Workplace Gamification Platform
Bring your team to the next level.
Performance Management Systems and Workplace Gamification Platform
Bring your team to the next level.