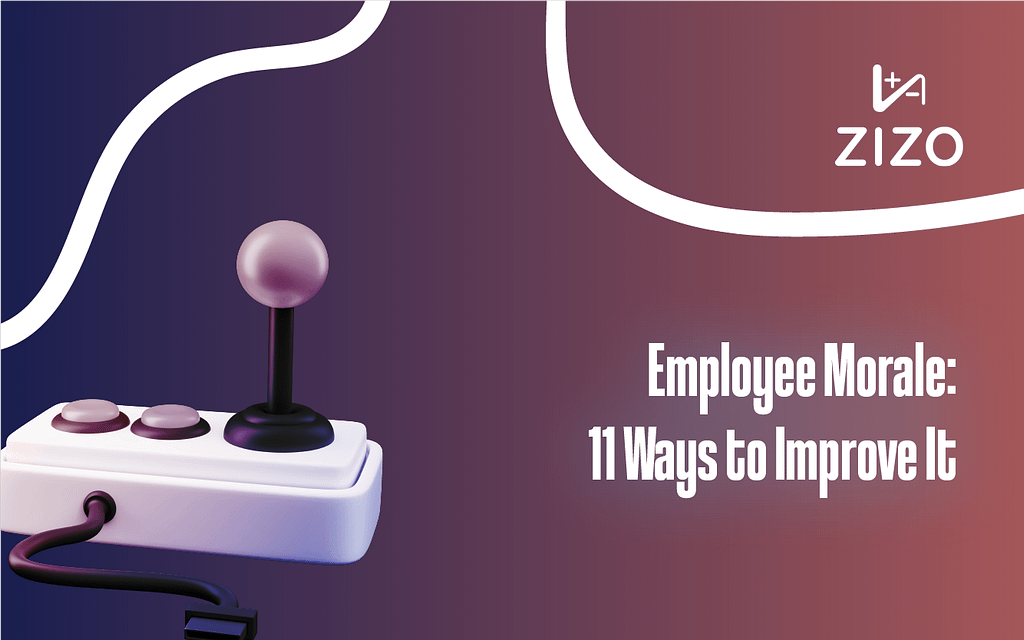 Could you imagine working without feeling good where you are? If someone doesn't feel motivated or rewarded for their efforts, eventually, they will be less productive. That's why employee morale is so important in today's business culture, as it is one of the keys to boosting productivity and increasing team members' commitment.
When someone doesn't feel comfortable where they are, they will only put minimal effort into their tasks. Working on staff morale boosters is necessary to improve the work environment for your employees. Soon, you will notice that everyone feels right at home if you implement the strategies we will show you.
Let's make working in your company something that everyone enjoys! In this article, we will show you the importance of employee morale for any company's success.
[ez-toc]
Why Is It Important to Boost Morale Within a Company?
Think about this: Imagine a place where you don't feel valued. Where every time you feel under pressure. You never have support to carry on your daily duties. Would you like to work in a place like this?
Anyone can see when morale is running low in a workplace. When there is no laughter around the office, every meeting is perceived as a catastrophe, and everyone seems to be burned out just by thinking about coming to work; alarms must go off immediately.
Managers, HR departments, and leaders should have the tools to notice when employees don't feel good about their jobs. Think about morale as the fuel driving people to give their best daily, when it is low, employees aren't motivated to get better results.
It's hard to tell if morale is low, but if you see one of the following five signs in your organization, it's time for some changes.
If your employees are often late to work, it could be because they don't feel good.
Everyone on the team feels scared and ready for problems, not solutions, whenever there's a meeting.
Employees don't feel comfortable sharing ideas and problems due to a lack of teamwork and communication.
Humor is scarce around the workplace. This is because employees feel that they are under pressure every time, so they don't think there is a proper way to laugh at what's happening.
Procrastination is always the norm because there is always a stressful environment around the workplace. It's difficult to see solutions when tensions are high, so deadlines are not fulfilled as they should be.
We have highlighted how to notice low morale and its consequences for productivity and turnovers. Let's see how boosting the spirits of your employees can make a drastic difference for your company.
3 Amazing Benefits of Improving Employees' Morale
Employees' morale has become one of the most important focuses of HR departments around the world. Studies have demonstrated that employees perform at their best when they are genuinely happy with what they are doing. When they truly feel part of the company and its goals, they will do everything they can to help the business grow and reach new heights.
Next, we will show you how staff morale boosters can benefit your team:
Increased Productivity
Productivity highly depends on whether a worker feels right at home while doing their daily tasks or not. When someone feels inspired by their coworkers, their bosses provide a good office environment and have proper incentives that match their expectations; people will strive to perform at their best every day.
To increase productivity, you must work on your staff's morale first instead of punishing them for bad results. As a result, you will notice that your employees will improve the quality of their work, and their motivation will stay on a high note.
Reduced Staff Turnover
Whenever employees don't feel genuinely part of the company, their expectations might be lower than when they first started. Soon enough, they will look for greener pastures elsewhere, as they think their current company is not offering them what they deserve.
Improving your staff's morale is a must if you want to reduce turnovers. They will not be looking elsewhere because they feel comfortable, appreciated, and happy right where they currently are.
Enhanced Work Environment
Home is where you feel comfortable enough to do your daily tasks without thinking about them as tedious chores and where you can look for support from those that spend time with you. The same applies to workplaces.
Most of your employees spend most of their time at their offices; that's why creating a work environment where everyone wants to be is so important. Also, it's essential to strengthen the bonds between coworkers. As a result, they understand the importance of having one another when they need support to fulfill their daily tasks.
Learn How to Boost Morale at Work
Although it may seem complicated, boosting your team's morale is achievable if you start working on the small things. Let's see how you can motivate your employees and make them feel a part of the goals that your company is trying to reach.
Organize a Free Lunch to Start the Week
Who doesn't love a free meal? This could be a great way to start your employees' week or to cap off a hard shift. By allowing your team to share a meal, you can share your expectations with them and know about their particular goals and worries. Take the time to make your employees feel appreciated so they enjoy working for the company.
Acknowledge Your Employees' Achievements
Everybody likes to feel special. One of the most effective ways to show that you care for your employees' efforts is to express your gratitude and reward the achievements of those that give their best every day.
Acknowledgment could be the fuel that keeps the motivation alive within the company. By encouraging employees with compliments, companies can create an atmosphere of productivity and happiness where everyone feels that their work is being highly regarded.
Improve Your Team's Communication
Show your employees that the company is always willing to listen to their concerns. Also, it's essential to promote helpful ways to establish communication between employees. Every team member needs to be on the same page, so everyone knows what they have to do and can support each other when needed. Moreover, communication helps create a friendly atmosphere where everyone feels that their coworkers and managers are people they can trust.
Promote Transparency
Being transparent with each company's expectations and policies is essential to build trust among your employees. Moreover, managers must present numbers and statistics in a comprehensible way to their team; this way, everyone will know if they are reaching the goals set by the company. Suppose everyone knows where the business wants to be. In that case, employees' morale will increase as they feel motivated to achieve these accolades.
Accept Advice and Criticism From Your Team
Being open to hearing what your team thinks about the company's current state is something that not every manager is willing to do. However, not listening to your employees can be a mistake in the long term. Your team is looking to achieve the same goals as you. Therefore, it's essential that you listen to each team member's advice about some aspects that your company could improve about its processes. Remember: Each team member could have ideas to change the game for good, so never forget to listen to what they want to say.
Give Each Task a Sense of Purpose
Having meaningful lives has been one of the main concerns of humanity since its inception. Employees need to feel that what they do has a specific purpose for the company, allowing the organization to reach its goals and maybe even surpass them. Demonstrate to your team that what they do is crucial for the business's future, so they feel that they are part of the bigger picture. Employees will be part of the company's success if the business grows.
In summary, it's important to demonstrate to your team that each part of the process is important to reach the goals that everyone is trying to achieve.
Award Incentives to Increase Productivity
It's been proven that incentives are a better way to increase productivity than punishing those who don't perform as expected. This is why it's essential to set awards for those that demonstrate their commitment to the goals previously established by your company. Employees' morale can boost if managers create a mentality where everyone feels like a winner when the company achieves a goal.
Award the effort of those employees that understand your vision and what you are looking to achieve in the long term for your company. The success of your company is possible thanks to each one of its members.
Encourage Everyone to Take Their Breaks
Nowadays, people feel guilty if they don't work every hour of the day. It's becoming more and more common for people to work two or three jobs or to ask for extra hours at their company. As a result, employees can burn out in the long run because they don't get enough rest.
Make sure your employees know that their days off are important and that they can enjoy their lunchtime without running back to work. We all need rest, as our lives aren't all about working.
Create a Comfortable and Safe Working Environment
There's no denying that being comfortable at work can have a huge impact on the productivity of your company. If your employees have the tools and information they need to do their jobs, they won't waste time looking for things the company has to provide. It's important to make sure that your team knows what they need to do their jobs, so they know that everything will be taken care of. Their only concern is improving the quality of their work.
Boost Teamwork Culture
As a manager or leader, you need to recognize each team member's talents and skills. Then, assign everyone to a specific role within the company. Finally, you should create a process where employees cooperate smoothly. Following these simple steps will increase productivity, as every team member knows what they have to do and who will support them whenever it is needed.
Turn Tedious Tasks Into Fun Games
Everyone has felt bored at work, especially when employees have the same tasks and goals every day. Is it possible to turn everyday activities into something fun?
Gamification has become a trend among companies. It is an alternative to boost employees' morale by turning even the simplest tasks into fun challenges in which everyone wants to participate. It's time to make working fun!
Read: Employee Contest Ideas to Motivate Your Team
Gamification: The Best Alternative to Boost Morale While Having Fun
Engaging your people is crucial to the business's success. Understanding staff morale as the backbone of a productive business is something that modern companies should be aware of if they try to improve their daily tasks. Your aim should be to make your team feel that their work contributes to the company's growth.
Who doesn't like to feel appreciated at work? Incentives and compliments are always well received among those people that genuinely feel part of the company. Never forget to show your team how important they are for the success of your company.
If you're looking to skyrocket your team morale with a gamification platform, try ZIZO and discover a new way to increase your teams' morale.
How Do Your Workers Feel When They Arrive at Work?