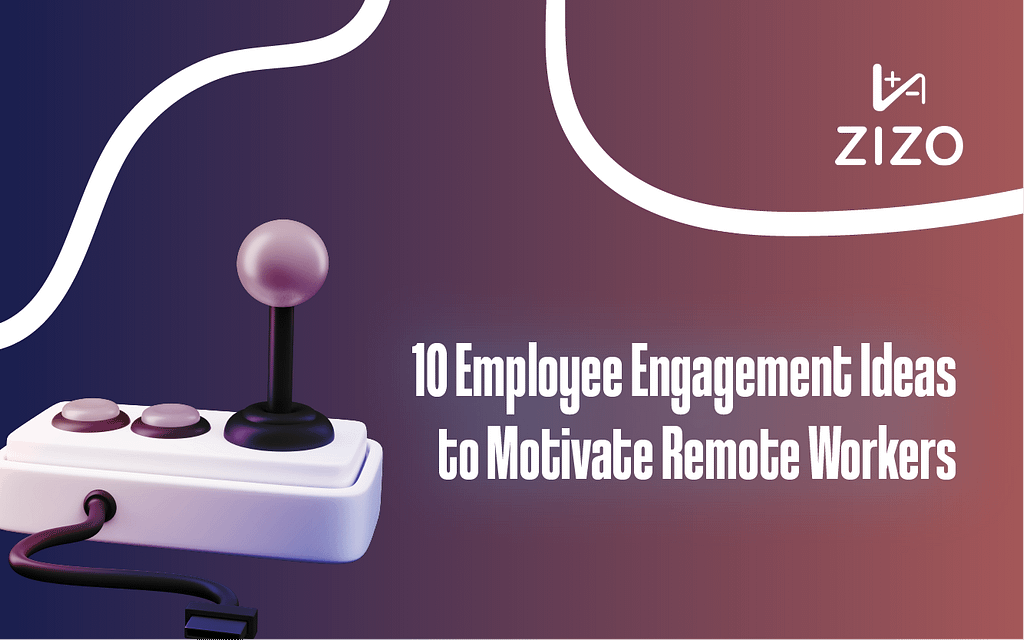 Toong! The sound of Google Meet in the ears of your remote workers. Next, they see a screen filled with tiles that include names, pictures, and humans with headphones. Then you kick off the meeting, hoping to connect with your team. We've got two questions for you – Is your remote team truly engaged? How well have you bridged the gap between remote work and in-person interactions?
Whether you use Zoom, Skype, or the most expensive team conferencing app in the market, you still have to constantly find new employee engagement ideas to motivate your remote workers. Today, we've compiled 10 virtual employee engagement ideas you can adopt for your company:
[ez-toc]
1. Quizzes And Trivia
Quizzes and trivia are fun and laid back. No complicated rules or scoreboards. Just your team taking a break from work. It can be fun to test your employees' knowledge, skills, and problem-solving abilities without judging. There are many quiz websites available online that you can use for free or a fee if you want to give it a shot.
2. Wellness Sessions
It's never a bad idea to encourage workplace fitness. However, some remote workers are used to bad eating and health habits that they don't have time to exercise or hit the gym. Wellness sessions can be a great way to get them out of their comfort zones while keeping them engaged. You can do this virtually free or pay for an in-person session for each employee at their local gym.
3. Company News
Keep your remote workers in the loop of what's happening in your company. Share your recent wins, upcoming events, and significant milestones the company has accomplished in a set period. This will help your workers feel like they are part of a journey, and the news is a constant reminder that the dream is still alive. You can share the information in various ways, such as via the company blog, newsletter, or social media. You can even make videos to show off new hires and live company events.
4. Create Virtual Buddies
A remote team is usually diverse, and it's easy to have employees who experience culture shock or find it hard to connect with others. A great way to help them engage is to set up virtual buddies based on similar geographical locations or interests. The goal of the virtual buddy is to make each employee feel heard and connect with at least one team member.
5. Virtual Happy Hour
Perhaps at the end of every week, you could have a virtual happy hour that connects your remote workers from different departments. It's a non-work, fun-oriented activity that brings your employees together on a video conferencing app like zoom. Zoom allows you to create breakout rooms for group communication, so you can combine employees that won't necessarily talk to each other without collaborating on a task.
6. Meeting-Free Week
Work meetings aren't usually fun. But they are unavoidable if you want to get real work done to the last detail. If you'd love to hear loud jubilation from your team, give them a meeting-free week to see how tasks get done differently. This could be an interesting experiment if your company has many meetings weekly.
7. Send Care Packages To Team Members
This is one of the easiest ways to remind remote workers that you care about them. You can include coffee, snacks, or even a gift card. You can also add a personal item like an inspirational poster they can put on their wall at work or home to help keep them motivated when things get tough during busy times of the year.
8. Offer Special Perks and Benefits
You can offer regular perks and benefits to keep your hardworking sales team or call center engaged. For example, you could pay for your employee lunch, a gym membership, or provide up to 3 days off each month based on performance. These benefits may seem insignificant to the employer, but they mean a lot to your employee.
9. Pay For the Best Tools
Communication and execution for a remote team can be challenging if some team members are not well-equipped. If you have the budget, pay for all the digital tools your remote workers need to put in their best work. You could even buy the desk setup gear required to participate in meetings. This will ensure that all team members look sharp in videos and are audible during calls.
10. Ask For Feedback
If you want more engaged employees, ask for feedback! When asking for feedback, you must have a clear idea of what you're looking for and what kind of responses will help the company. For example, you could ask: How could management be better? Is there room for growth and development within the department or company? If so, how could this growth happen more quickly?
Read: How to Build and Implement a Performance Management Cycle
Work Gamification – The Ultimate Retention Strategy
Try gamification if you're looking for a reliable way to motivate, engage, and measure work performance. It is arguably the best way to engage a remote team without trying too hard. Gamification uses a game-like approach to make what would typically look like work become fun to do. It is implemented through a points or rewards system where employees can move up the leaderboard for completing tasks and projects. The goal is to make your remote workers more engaged with their work.
If you're looking for a reliable gamification platform for your remote team, try ZIZO.