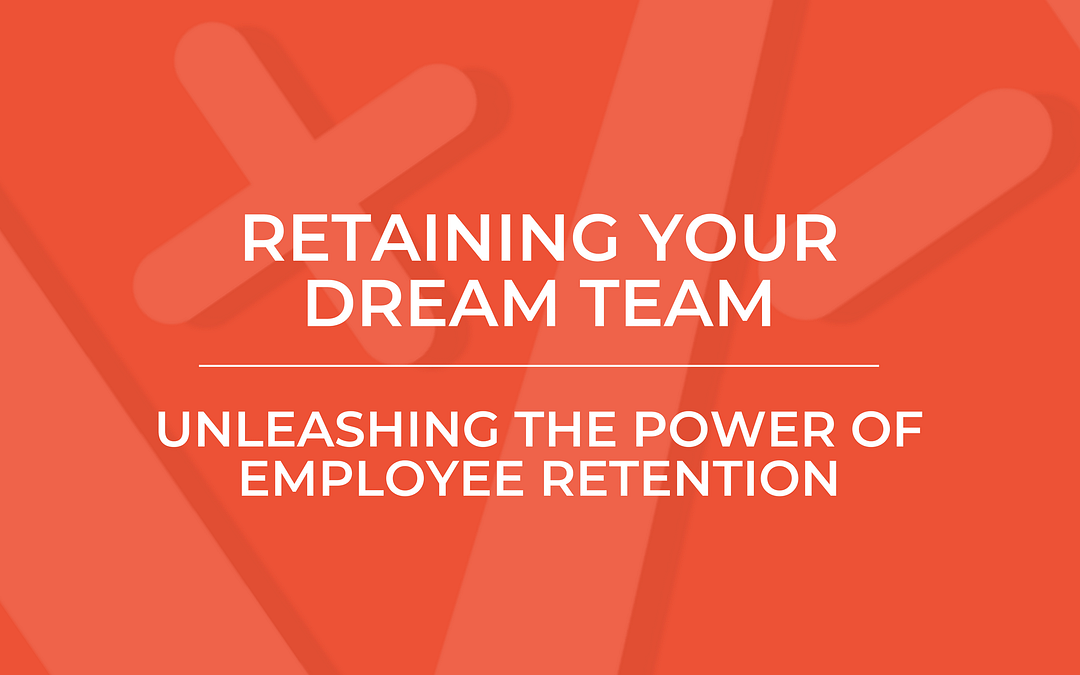 Ah, employee retention! The Holy Grail of every organization. In today's competitive job market, holding on to your top talent can feel like trying to keep a greased pig in your hands. But fear not, dear readers, for I am here to equip you with some cunning tactics that will boost your retention rates and transform your workforce into an unstoppable dream team. So sit back, relax, and prepare to unleash your inner employee-retention ninja!
Create a Culture of Belonging:
A sense of belonging can work wonders when it comes to employee retention. People want to be part of something bigger than themselves, a team where they feel valued and appreciated. Encourage a culture of camaraderie and celebrate individual and team achievements. By fostering a welcoming environment, you'll create an emotional bond that keeps employees glued to your organization.
Real-world example: Google, the tech giant, is renowned for its inclusive culture. With employee resource groups, mentorship programs, and a host of engagement activities, they prioritize creating a sense of belonging among their workforce.
Offer Attractive Compensation Packages:
Let's face it, money talks! Competitive salaries and benefits are essential to retaining top performers. Conduct thorough market research to ensure your compensation packages are in line with industry standards. Don't forget to sweeten the deal with additional perks, such as flexible work hours, remote work options, or even an office pet (yes, really!). A happy employee is a loyal employee.
Real-world example: Costco, the retail giant, pays its employees an average hourly wage higher than the industry standard. Their philosophy is simple: happy employees lead to happy customers, which ultimately drives business success.
Invest in Professional Development:
The age-old adage "knowledge is power" rings true when it comes to employee retention. Provide opportunities for growth and learning through training programs, conferences, and mentorship initiatives. By investing in their professional development, you'll show your employees that you believe in their potential, while simultaneously enhancing their skills and expertise.
Real-world example: Salesforce, the cloud-based software company, is known for its commitment to employee development. They provide a multitude of learning resources, from online training modules to internal career advancement programs. Their investment in employee growth has resulted in higher job satisfaction and lower turnover rates.
Recognize and Reward:
Everybody loves a good pat on the back, and your employees are no exception. Recognize their hard work and accomplishments by implementing a robust recognition and reward program. Whether it's a monthly employee of the month award, bonuses tied to performance, or a spontaneous pizza party, small gestures can go a long way in boosting morale and fostering loyalty.
Real-world example: Airbnb, the online marketplace for lodging, has a "Love, Airbnb" program where employees can publicly recognize their peers for outstanding contributions. This culture of appreciation creates a positive feedback loop and encourages employees to stay invested in the company's success.
Foster Work-Life Balance:
In today's fast-paced world, achieving a work-life balance can feel like chasing a unicorn. Help your employees tame the mythical creature by promoting flexible work arrangements and providing adequate time off. Remember, burnt-out employees are more likely to seek greener pastures. So, encourage vacation time, discourage overtime, and create an environment where personal well-being is valued as much as productivity.
Real-world example: Microsoft Japan conducted an experiment where they implemented a four-day workweek. The result? A 40% boost in productivity and a 92% increase in employee satisfaction. By prioritizing work-life balance, they achieved higher retention rates and happier employees.
In the realm of employee retention, there's no one-size-fits-all solution. However, by implementing these tactics and infusing your workplace with a dash of creativity, you'll be well on your way to creating an environment where employees want to stay and thrive. Remember, retention is not just about numbers; it's about building a motivated and engaged team that is committed to achieving your organization's goals.
By cultivating a culture of belonging, offering competitive compensation packages, investing in professional development, recognizing and rewarding achievements, and fostering work-life balance, you'll be setting the stage for a workforce that is loyal, productive, and motivated.
Don't let the greased pig of employee retention slip through your fingers. Embrace these tactics, adapt them to your organization's unique needs, and watch as your retention rates soar. Your dream team awaits!
Now go forth, fearless leader, and conquer the world of employee retention with a cheeky smile and a toolbox filled with tactics that will make your competitors green with envy. Remember, happy employees make for a happy bottom line!
And with that, we bid you adieu, armed with the knowledge to unlock the secrets of employee retention. Good luck, and may your dream team be forever by your side!
Looking for more help with retention? Make your engagement and retention strategies a breeze with ZIZO.